Ernest Hilbert's poems have been reproduced in a number of anthologies, some of them standard university classroom texts. More information on individual volumes appears below.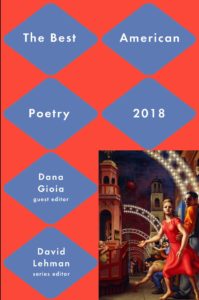 "A 'BEST' ANTHOLOGY THAT REALLY LIVES UP TO ITS TITLE": BEST AMERICAN POETRY 2018
(ERNEST HILBERT) GIOIA, Dana, David Lehman, eds. Best American Poetry 2018. New York: Scribner , 2018. Octavo, issued simultaneously in color paper wrappers and hardcover with illustrated dust wrapper. $18.99 / $35. ISBN-10: 1501127802
The thirtieth edition of the important Best American Poetry series contains Ernest Hilbert's poem "Mars Ultor," which first appeared in the journal Academic Questions and was later included in the protest publication Donald Trump: A Magazine of Poetry.
Purchase directly from Amazon, Barnes & Noble, and Books a Million.
"Celebrating thirty years, the 2018 edition of the Best American Poetry—'a "best" anthology that really lives up to its title" (Chicago Tribune). This anthology "collects the most significant poems of the year, chosen by Poet Laureate of California Dana Gioia" (Publisher's Announcement). "Gioia's instincts and insights unerringly hit the mark, and this new entry in The Best American Poetry series provides a richly rewarding compendium of styles and possibilities. In deftly channeling Auden's 'The Fall of Rome,' Ernest Hilbert's 'Mars Ultor' (another of my favorites in the book) observes, 'Brutes push their way to power, / But the muddiest barbarian / Also wants the throne an hour.' So, too, do poets, and the seventy-five assembled here have earned their hour of pageantry in this most distinguished setting" (Presence). "The Best American Poetry series has become one of the mainstays of the poetry publication world . . . [capturing] the zeitgeist of the current attitudes in American poetry" (Academy of American Poets). In The Washington Post, Michael Dirda, who singles out Hilbert's poem and quotes from it, described the volume as an "always excellent annual anthology." "The poems, ordered alphabetically by author, have a wonderful cohesion and flow, as if each contributes to a larger narrative about life today." (The Washington Post). "The guest editor for 2018, Dana Gioia, has an unconventional poetic background. Gioia has published five volumes of poetry, served as the Chairman of the National Endowment for the Arts, and currently sits as the Poet Laureate of California, but he is also a graduate of Stanford Business School and was once a Vice President at General Foods. He has studied opera and is a published librettist, in addition to his prolific work in critical essay writing and editing literary anthologies. Having lived several lives, Gioia brings an insightful, varied, eclectic eye to this year's Best American Poetry. With his classic essay 'Can Poetry Matter?,' originally run in The Atlantic in 1991, Gioia considered whether there is a place for poetry to be a part of modern American mainstream culture. Decades later, the debate continues, but Best American Poetry 2018 stands as evidence that poetry is very much present, relevant, and finding new readers" (Publisher's Announcement). The anthology contains poems by seventy-five poets, including, besides Hilbert, Christian Wiman, Julia Alvarez, Aimee Nezhukumatathil, Paisley Rekdal, Elise Paschen, Tony Hogland, Frank Bidart, A.R. Ammons, David Barber, Stephen Kampa, Michael Robbins, Mary Jo Salter, Kay Ryan, Mary Ruefle, Natasha Trethewey, Terrance Hays, Marie Howe, Ilya Kaminsky, Sharon Olds, Joy Harjo, and others.
* * *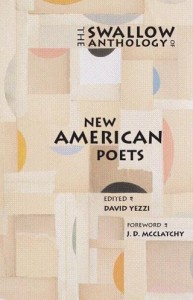 "THIS IS WHAT GOOD POEMS DO": THE SWALLOW ANTHOLOGY OF NEW AMERICAN POETS
(ERNEST HILBERT) YEZZI, David, ed. Swallow Anthology of New American Poets. Ohio: Swallow Press, University of Ohio Press, 2009. Octavo, issued simultaneously in color paper wrappers and hardcover with dust wrapper. $13.75 / $49.95. ISBN-10: 0804011214
This landmark anthology contains nine sonnets by Ernest Hilbert, drawn from both his debut collection Sixty Sonnets and its 2013 companion volume All of You on the Good Earth. "The Swallow Anthology of New American Poets gathers the work of thirty–five of the most compelling and talented new poets writing today. Groundbreaking anthologies of this kind come along once in a generation and, in time, define that generation. The Swallow Anthology identifies a group of poets who have recently begun to make an important mark on contemporary poetry, and their accomplishment and influence will only grow with time. The poets of The Swallow Anthology do not constitute a school or movement; rather they are a group of unique artists working at the top of their craft." As editor David Yezzi writes in his introduction, "Here is a group of poets who have, perhaps for the first time since the modernist revolution, returned to a happy détente between warring camps. This is a new kind of poet, who, dissatisfied with the climate of extremes, has found a balance between innovation and received form, the terror beneath the classical and the order underpinning the romantic. This new unified sensibility is no watered–down admixture, no easy compromise, but, rather, the vital spirit behind the most accomplished poetry being written by America's new poets." J.D. McClatchy writes in his foreword, "If I were to generalize about the poets in this remarkable anthology, I would want to say something about the tone of this book. There is noticeably a common voice or approach. This is not a collection of vatic lyrics or dissociated rambles. The poems are often set at a middle distance, in a voice aware that it is speaking, pondering, puzzling, but alert as well to impulses that are unspoken or shocking. These are poets who have read, and expect their reader also to have read." "Obviously, greatness is something conferred posthumously and by posterity, but the poets here exhibit the right aspirations and reflect how American poetry is constantly evolving in craft, range, and versatility" (PN Review). "These poets at their best evoke the freshness one hopes for but rarely finds in contemporary poetry" (The Baltimore Sun). The anthology is currently in its second printing, having sold through its first eight months after publication.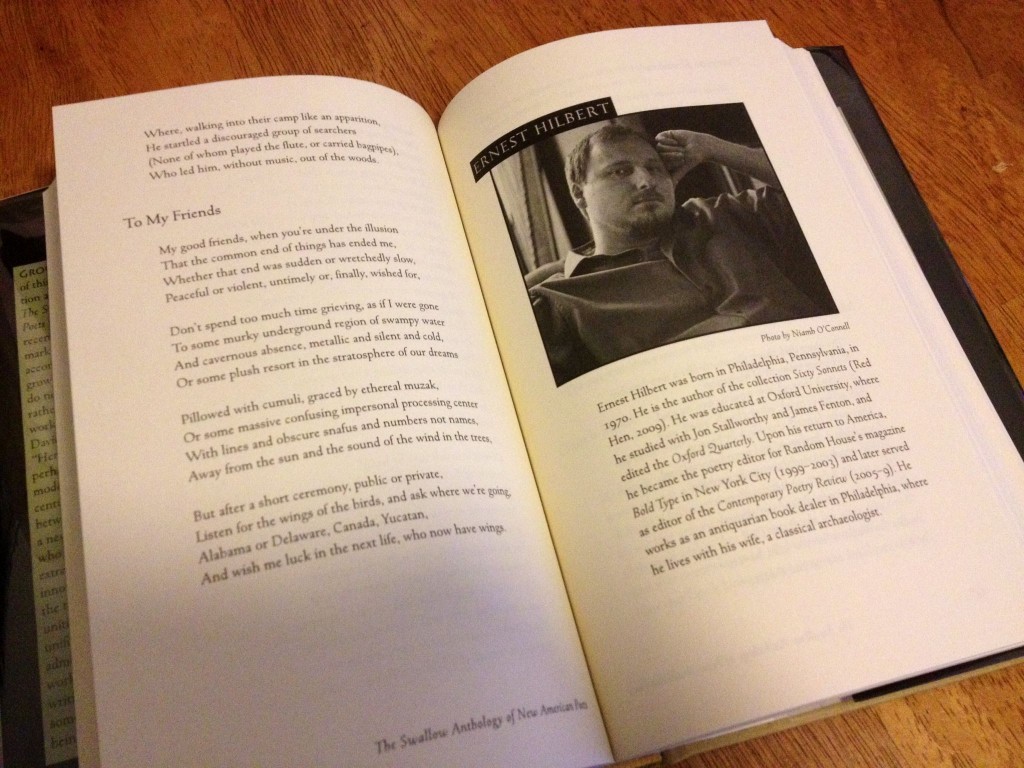 * * *
"ERNEST HILBERT . . . BRINGS POETRY INTO THE 21ST CENTURY": PENGUIN'S LITERATURE: A POCKET ANTHOLOGY
(ERNEST HILBERT) GWYNN, R.S. Literature: A Pocket Anthology (Penguin Academics Series), 5th edition, New York: Prentice Hall/Penguin, 2011 and 6th edition, 2015. Stout octavo, trade paperback. $50.00. ISBN: 0205032192
Ernest Hilbert's controversial poem "Domestic Situation" appears in this best-selling Penguin anthology. "A refreshing alternative to voluminous literature anthologies, this compact, inexpensive, and diverse collection of fiction, poetry, and drama provides a concise yet complete introduction to the study of literature. Short story authors new to this collection include award winners Tobias Wolff, Helen Simpson, and Susan Perabo, as well as the Pulitzer-prize winning Indian-American, Jhumpa Lahiri. The poetry collection brings new selections from classic and contemporary authors, including John Keats, e.e. cummings, Langston Hughes, Elizabeth Bishop, and Richard Wilbur, as well as fresh models from poets new to this edition including Amy Gerstler, Rebecca Foust, Craig Arnold, Ernest Hilbert, and Erica Dawson, whose work brings poetry into the 21st century. The drama section includes Yasmina Reza's Tony-winning comedy The God of Carnage, produced on Broadway with a cast including James Gandolfini and Jeff Daniels, and reflecting the robust strength of today's Broadway and of contemporary comedy, as well as Shakespeare's Twelfth Night, which brings a classic comedy to this collection for the first time."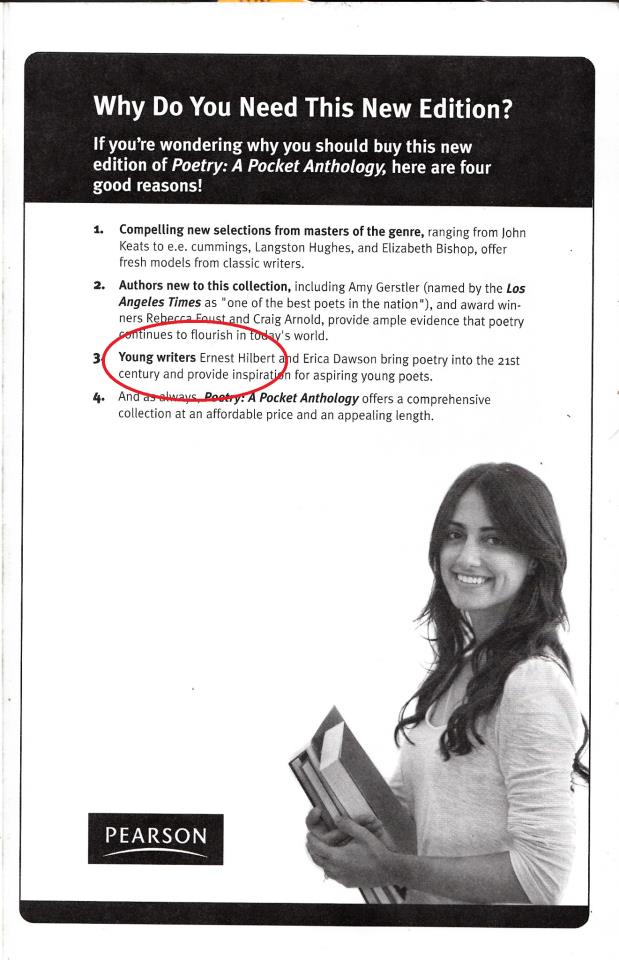 * * *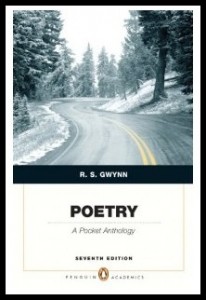 "INSPIRATION FOR ASPIRING YOUNG POETS": PENGUIN'S POETRY: A POCKET ANTHOLOGY
(ERNEST HILBERT) GWYNN, R.S., ed. Poetry: A Pocket Anthology (Penguin Academics Series), 7th Edition. New York: Prentice Hall / Penguin, 2011. Stout octavo, trade paperback. $40.00. ISBN-10: 0205101984
A new edition of the classic Penguin anthology of "250 poems provides a concise yet comprehensive introduction to the study of poetry. Authors new to this collection, including Amy Gerstler (named by the Los Angeles Times as 'one of the best poets in the nation'), and award winners Rebecca Foust and Craig Arnold, provide ample evidence that poetry continues to flourish in today's world. Young writers Ernest Hilbert and Erica Dawson bring poetry into the 21st century and provide inspiration for aspiring young poets." "The ideal alternative to longer anthologies, this brief, affordable collection of more than 250 poems covers the full scope of the poetic tradition. Chronologically organized, this anthology includes master poets from Spenser, Sidney, and Shakespeare to contemporary artists of the 21st century, reflecting the work of the genre's most distinguished writers as well as a wide array of diverse voices."
* * *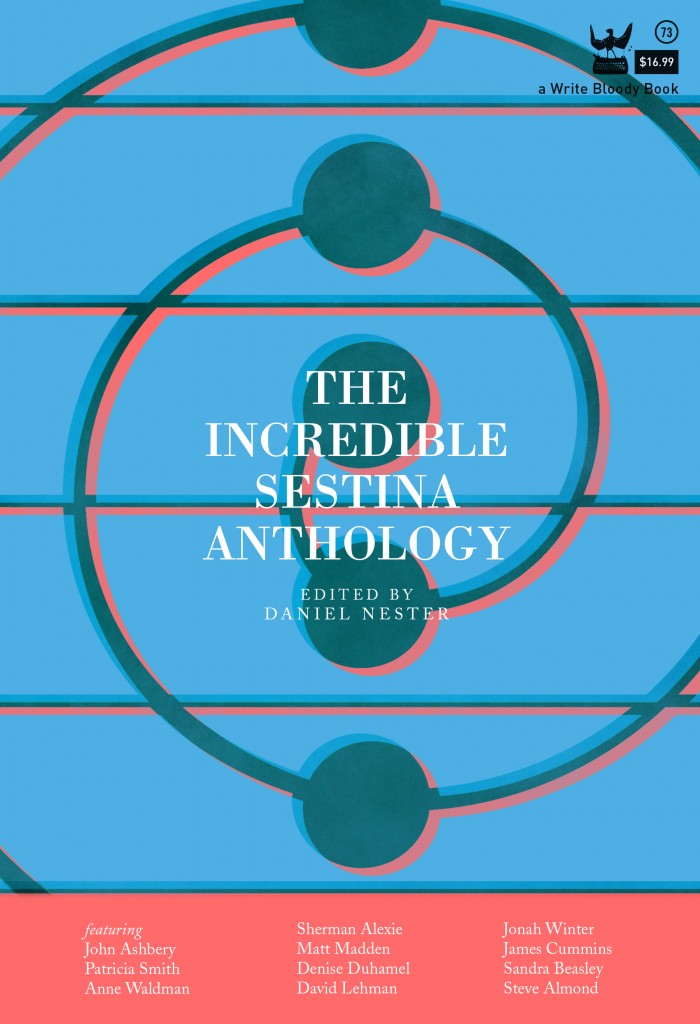 "MADDENINGLY COMPLICATED RULES": ERNEST HILBERT'S "HEL[L]ICAL DOUBLE SESTINA: [DEATH METAL NUMBER ONE]" IN THE INCREDIBLE SESTINA ANTHOLOGY 
HILBERT, Ernest (Daniel Nester, editor). The Incredible Sestina Anthology. Austin, TX: Write Bloody Publishing, 2013. Octavo, paper wrappers. $25. ISBN-10: 1938912365.
"More than 800 years after its invention in medieval France, the sestina survives and thrives in English. A fixed 39-line poetic form with of six stanzas of six lines each, followed by a three- line stanza known as an envoi, tornada, or tercet, the sestina is the one form of poetry that poets from all camps agree can exist in a free verse world. Formalists and avant-gardists both love sestinas for their ornate, maddeningly complicated rules of word repetition. For The Incredible Sestinas Anthology, editor Daniel Nester has gathered more than 100 writers—from John Ashbery to David Lehman to Ernest Hilbert and Patricia Smith—to show the sestina in its many incarnations: prose and comic sestinas, collaborative and double sestinas, from masters of the form to brilliant one-off attempts, all to show its evolution and the possibilities of this dynamic form." "By collecting an exemplary, representative, and diverse arra of sestinas, The Incredible Sestina Anthology does just what an anthology should: it creates both an accurate snapshot of the form throughout the twentieth and twenty-first centuries and a sense of the form's future: the dream of a common poetry" (American Book Review). This comprehensive collection of classic and new sestinas includes Ernest Hilbert's infamous "Hel[l]ical Double Sestina: [Death Metal Number One]," which first appeared in a different form on McSweeney's Internet Tendencies. The volume also includes a short interview with Hilbert about the poem.
* * *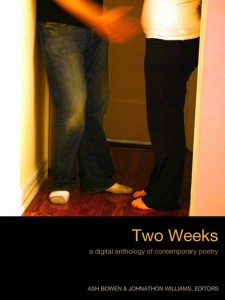 "CAN SO MUCH PURE FORCE EVER KNOW REVERSE?": ERNEST HILBERT'S POEM "DREDGE" IN TWO WEEKS
(ERNEST HILBERT) BOWEN, Ash, Johnathon Williams, Eds. Two Weeks: A Digital Anthology of Contemporary Poetry. NP: Linebreak, 2011. Ebook. $2.99. ASIN: B004MYGCFM
Ernest Hilbert's poem "Dredge" appears in this groundbreaking anthology from the editors of Linebreak magazine. The poem later appeared in Hilbert's second collection, All of You on the Good Earth. The anthology also includes poems by Randall Mann, Jennifer Jean, Sandy Longhorn, Oliver de la Paz, Dorianne Laux, and Matthew Zapruder. "The first of its kind, Two Weeks is collection of 58 all-new poems by established and emerging voices in contemporary poetry. Released exclusively in ebook format, the anthology was completed in only 14 days—from the online call for submissions to the design and production of the book itself. The editors and designers took special care to ensure that line breaks and other critical formatting survived the transition to digital form."
* * *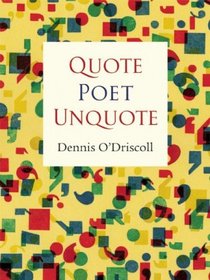 "THE VOICES IN THIS VOLUME ARE BY TURNS PROVOCATIVE, DEADPAN, HUMOROUS, AND INSPIRATIONAL": QUOTE POET UNQUOTE
(ERNEST HILBERT) O'DRISCOLL, Dennis, ed. Quote Poet Unquote: Contemporary Quotations on Poets and Poetry. Port Townsend, Washington: Copper Canyon, 2008. Stout octavo, trade paperback. $18. ISBN-10: 1556592701.
This lively collection of meditations on contemporary poetry, by such contributors as Seamus Heaney, Helen Vendler, and Michael Donaghy, was assembled by Irish critic and poet Dennis O'Driscoll from his column "Pickings and Choosings" for Poetry Ireland Review. Ernest Hilbert is represented on several controversial topics in the form of long quotations drawn from his editorials and reviews at Contemporary Poetry Review. "'One of the best-read men in the Western world' is how Poetry Review describes Irish poet-critic Dennis O'Driscoll. Quote Poet Unquote, his compilation of contemporary quotations on all things poetry-related, proves that judgment spot on. The book grew out of O'Driscoll's column 'Pickings and Choosings' for Poetry Ireland Review, and contains nearly two thousand smart sayings obsessively gleaned from six hundred sources—including powerhouse critics, prize-winning poets, world leaders, and newspaper headlines. The voices in this volume are by turns provocative, deadpan, humorous, and inspirational."
* * *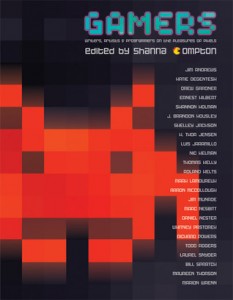 "THE BATTLE WAS PITCHED, INTERMINABLE, AND HIGHLY REPETITIVE": HILBERT'S CLASSIC TAKE ON EARLY ARCADE GAMES
(ERNEST HILBERT) COMPTON, Shanna, ed. Gamers: Writers, Artists, and Programmers on the Pleasures of Pixels. New York: Soft Skull Press, 2004. Stout octavo, stiff pictorial wrappers. $14.95. ISBN-10: 1932360573
Ernest Hilbert's long essay "Flying Off the Screen: Observations from the Golden Age of the American Video Game Arcade" appears alongside others by "programmers, visual artists, cartoonists, game testers, and championship gamers" in this now-classic anthology of video game commentary. The publisher explains that "from the creation of 'Spacewar!' in 1962, through the golden age of the video game arcade in America, to the console-in-every household proliferation today, games have provided us with something books, music, the plastic arts, and even film have not. . . . In Gamers, editor Shanna Compton and twenty-three contributors . . . offer not only witty, widescreen views of how video games have become part of the cultural landscape, but also insight into where they may be headed next." The Detroit Metro Times noted that "poet Ernest Hilbert offers the following existential observation: 'It is difficult to exaggerate the exultation, the sheer bloody rush a 12 year-old boy can achieve by blasting Ozzy Osbourne's 'Flying High Again' through foam orange headphones while committing mass murder.'" Other contributors include Colson Whitehead, Richard Powers, Shelley Jackson, Aaron McCollough, and Daniel Nester. This edition has gone into several printings.
* * *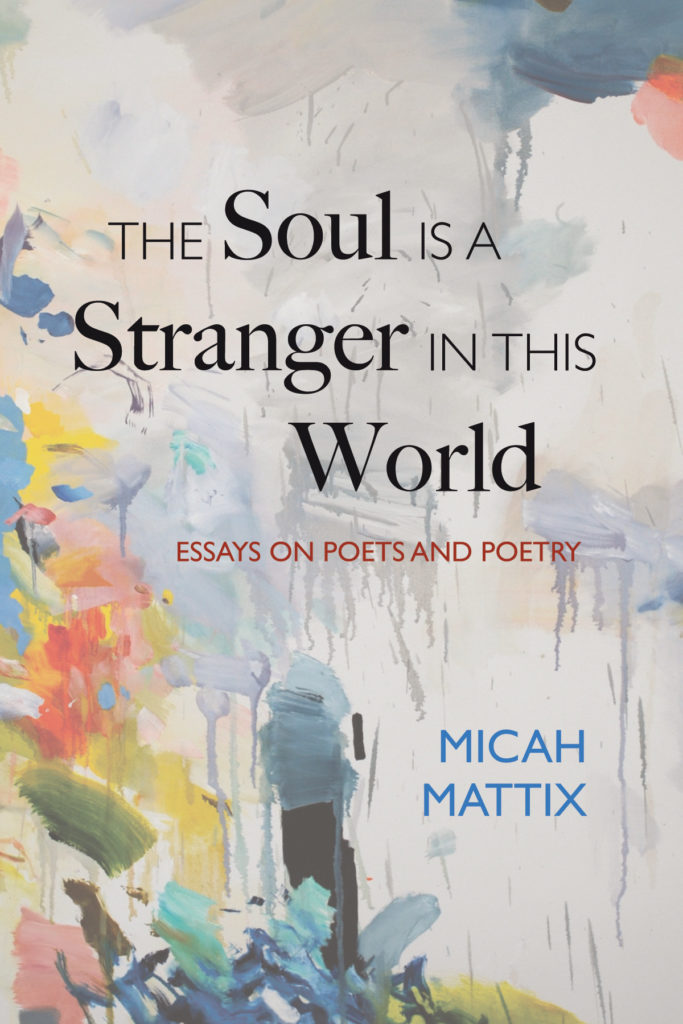 "AN HONEST VOLUME FOR DISHONEST TIMES": MICAH MATTIX ON ERNEST HILBERT'S CALIGULAN
(ERNEST HILBERT) MATTIX, MICAH. The Soul Is a Stranger in This World: Essays on Poets and Poetry. Eugene, OR: Cascade Books, 2020. Octavo, hardcover in dust jacket, trade paperback, and digital. ISBN-10: 1532660162
Micah Mattix's wide-ranging collection of essays includes analysis of poets from T. S. Eliot and E. E. Cummings to Allen Ginsberg and Basil Bunting to Reginald Shephard and Ernest Hilbert, alongside considerations of Flarf poetry, free verse, and surrealism. Chapter 31, "Ernest Hilbert's Street Music," is devoted to Hilbert's 2015 prize-winning collection, Caligulan. The essay originally appeared in the newspaper The Washington Free Beacon. "The Soul Is a Stranger in This World is a timely examination of some of the best modern and contemporary poets and a trenchant defense of poetry as a narrative, musical, and theological art. While it is common today to view the poet as a revolutionary, who breaks old forms in the name of aesthetic and political freedom, this volume begins with the classical view of the poet 'as a man speaking to men,' as Wordsworth put it. Poetry may challenge and shock, but it also consoles, probing the contours of the human soul in a broken world. Collected from essays and reviews first published in The Wall Street Journal, The New Criterion, Books and Culture, First Things, and other outlets, the volume traces these concerns in the work of modern masters such as Rilke and Eliot, avant-garde exemplars like Andre du Bouchet and Basil Bunting, and contemporary writers such as Dana Gioia and Franz Wright" (Publisher's Announcement). Mattix writes: "Most Americans don't like to talk about death, but Ernest Hilbert doesn't mind. Death and decay is what he sees in Caligulan—his third volume of poems after Sixty Sonnets (2009) and All of You on the Good Earth (2013)—and he has little interest in spinning 'Fictions fielding hopes of glory / Where none should be fulfilled.' This is a question of temperament, as the title suggests, and reality. However we might feel, it's relatively clear that the 'seams' of order, as Hilbert puts it in one poem, have been 'unsewn.'" Mattix goes on to conclude that "as anti-pastoral as Hilbert can be, he shares Robert Frost's commitment to describing impressions as precisely as possible," declaring Caligulan a "volume is full of skillful surprises and insight, as well as occasional moments of humor" and "an honest volume for dishonest times."